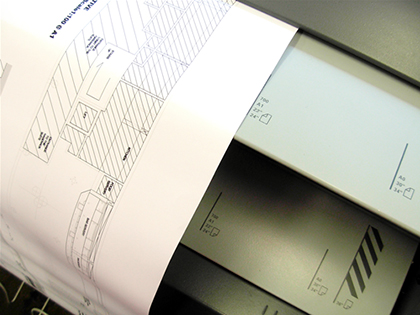 In addition to our usual A4 and A3 copying facility, we also offer an instant turnaround service on black and white copying for plans, drawings, posters or any other large format printed items, right up to A0.
Our clients include architects, draughtsmen, landscape gardeners, engineers, planners, estate agents, builders, house builders, joiners and other contractors.
We can produce one-off copies while-you-wait or larger runs where you may wish to leave the plans with us and return to collect them later.
Please ask about any enlargements or reductions you may need. Colour copying is also available on request.
We can also output architectural and engineering plans from PDF files. Simply email them to us or drop in on disc or memory stick and collect at a time convenient to you.
Encapsulating the prints will also protect those on-site copies, keeping them clean and legible that little bit longer!